Tarot Card Reading in Person or by Phone.
A Tarot Card Reading by Jennifer will give you the answers you need to create a better future.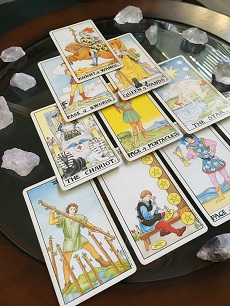 The Tarot Cards will bring purpose to your past, explain your current situation, and prepare you for you're the future. There's no need to guess at life when the answers are waiting to be revealed.
Call (630-359-5381)

Email askjenniferrightnow@gmail.com
Are you in the right career?
Is your spouse, or lover faithful?
Will you ever find true love?
What life lessons are you to learn?
Are you struggling with a disedtion?
A Tarot card reading by Jennifer will give you great insight in to your life and the people and events around you. Take the guesswork out of life and face tomorrow strengthened by "Knowing"
Get an unrestricted "behind the scenes" pass
A tarot card reading will help you understand your surroundings. You will discover what people are doing, planning, and thinking and how their actions will shape your world. With a tarot card reading, nothing remains HIDDEN. Learn what someone's motives and hidden agendas are, and how to bring the best out of any situation.
Is a tarot card reading right for you?
Tarot Card Readings are for anyone looking for clear direction. If you've gotten all the advice, you can from family and friends and now you're looking for clear and unbiased guidance, this is for you. Your answers are within the cards.
The Tarot Card Reading is a flat rate of .This reading can last up to an hour, and there is no additional fee if it should exceed an hour. Whether you are around the corner, or a world away, Jennifer is waiting to give you the answers you need.
With her natural psychic ability and years of experience, Jennifer uses the Tarot Cards to help you to understand your life, yourself and the world around you.Whether just you want to learn more about your past, present, and future or you need help with a specific problem in your life, she offers caring readings and services for your needs. 
 
The Tarot Card Reading is available in Person or by Phone.
Contact Jennifer  to learn more about her special services or to schedule a Tarot Card Reading today!
Call (630-359-5381)

Emailaskjenniferrightnow@gmail.com